The Australian High Commission in Bandar Seri Begawan does not provide visa or immigration services.

The Australian High Commission in Malaysia is responsible for managing visa and immigration matters, including applications for Australian citizenship by descent, for residents of Brunei through the Australian Visa Application Centre (AVAC) in Kuala Lumpur, Malaysia.
Australian Visa Application Centre (AVAC)
The AVAC provider in Malaysia is VFS Global. VFS Global can:
answer your questions about the Australian visa and citizenship application process; and
accept Australian visa and citizenship by descent applications.
Physical Address
Suite 19.06, 19th Floor,
Wisma MCA
163 Jalan Ampang
Kuala Lumpur
Malaysia
Telephone: +60 3 2166 6550
Email: info.aumy@vfshelpline.com
Website: http://www.vfsglobal.com/australia/malaysia/index.html
General information on visas and immigration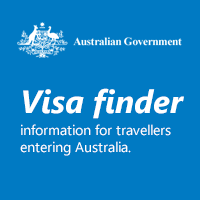 All travellers, with the exception of Australian or New Zealand citizens, require a visa prior to travelling to Australia. Bruneian Citizens and citizens of certain countries can apply for an Electronic Travel Authority (ETA) through a travel agent, airline or online for a short stay up to three months for each visit.
Use the visa finder tool on the Department of Immigration and Border Protection's website to find out which visa best suits your needs.
Suggested visa-related links
On 1 September 2015, Australia ceased issuing visa labels. Australian visas are issued and recorded electronically. You can use
Visa Entitlement Verification Online (VEVO)
for free to check your visa status and entitlements.
Citizenship
Applications for Australian citizenship, including by descent, are lodged and decided in Kuala Lumpur. Once you have obtained your Citizenship by Descent certificate you may be able to apply for an Australian passport. Further details on applying for citizenship can be found at http://www.citizenship.gov.au/applying/.
More information
For further information on visa and immigration requirements, please visit the Australian High Commission in Kuala Lumpur's website at or the Australian Department of Home Affairs www.homeaffairs.gov.au .